OK, you have invested some funds into the verified dropshipper's lists and now you are ready to start your home based business. You are overwhelmed and feel like starting selling product right at this very moment…
But I am sure that once you look at the categories of products available you are likely to feel at a loss:
WHERE TO START?
WHAT PRODUCTS TO SELL?
WHAT PRODUCTS TO SELL ON EBAY?
You can certainly follow the way by trial and error (selecting products randomly) or you can start with online research and considerably reduce the risks of failing.
It is great if you own this product as it comes with in-built market research tool to make your life easier.
But if you have purchased a cheaper dropship list or go your own way establishing relations with the merchants directly then you need some help.
I suggest testing new product on eBay auction – you have an opportunity to reach a lot of potential visitors within a short period of time (once you have tested the products and know they sell – you SHOULD cut your eBay auction costs and shift your priority to building and promoting your own e-commerce storefront).
So, what tools do you have at your disposal to make a sort of online research to see what to sell:
- eBay Pulse
- eBay paid market research reports
- Use some recognized third party eBay software solution
- Google Hot Trends (not always helpful, but worth checking)
- Amazon movers and shakers
- Amazon best sellers
- Amazon new releases
Surely, it is not a complete list of tools available, but the above list should help you to start. With time, you will add new market research tools and remove some old ones – it all depends on the experience you will get.
Now it is time to test new markets and products!
[tags]products to sell on eBay, drop ship, wholesale, ebay, e-commerce, dropshippers list[/tags]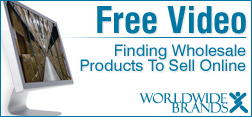 Related posts: