There are two ways to spot dropshippers:
- do it on your own researching for merchants that will dropship your orders. You also need to verify they are real dropshippers including reasonable prices and service
- buy a dropship list of prescreened dropshippers. What you pay for in fact is the result of the market research and verification that others did for you. Plus you get some nice freebies: support, e-books, market research tools, etc.
It is up to you what option to choose. I think it is wise to try both as those dropship lists are reasonably priced and can repay you many times within a short period of time.
You can check our detailed reviews of some most popular dropship list providers and services. But no doubt they are not your only choice if you search for a dropship directory of verified dropshippers.
One more source of dropshippers is Simplx.com
Would like to know more about the company? So would I.
Who is Simplx?
Simplx is the world's largest dropshipping product source for those who sell on auction sites and on their own websites; offering over 60,000,000 unique name brand products at discount prices.
Simplx is the only dropshipper worldwide to connect you directly to over 1,000 of the world's largest suppliers, like Target®, Office Depot® Circuit City® Buy.com®, Overstock.com®, Eddie Bauer®, Old Navy®, Gap®, Sony®, CompUSA®, and more. Only through Simplx can you access over 10,0000,000 products and thousands of name brands up to 95% off retail.
Sounds impressive and at the same time familiar. I mean every dropship merchant service featured on our website claims to be the industry leader (and I share this point – every merchant we list offers some unique services and is different from the competition. Yes, differentiate or die):
Many familiar names…
Simplx.com disadvantages:
- they accept application from businesses ONLY
- they implement a non-refundable $19.95 application fee. Application fee includes 30 day review of Simplx program information and additional benefits. They do not mention those additional benefits AND they do not specify what the basic requirements for the applicants are, so I could know from the very beginning if I have good chances to be approved.
If you do a simple Internet research you will find many negative comments about the service (it is true about other merchants we review). Most negative reviews are the result of that application fee that in fact is an explanation how their system works.
Once you read a detailed description of the company services and how they work you are likely to feel uneasy if you should try it or if it is one of those companies.
[tags]simplx, dropship turnkey website, drop ship, wholesale, ebay, e-commerce, dropshippers list[/tags]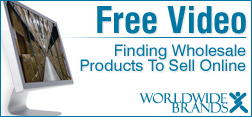 Related posts: