eBay dropshipping is popular and comparatively cheap way to test products dropship.
Unlike developing your own e-commerce website and promoting it online (SEO/ PPC/ e-mail marketing/ social media promotion – costly ways to test dropship products), eBay dropship allows you to cut these links in your online business chain. Using the auction platform to start or test your dropship business you save thousands of dollars. In addition you save much time. That's why eBay dropship is probably the only right way for dropship beginners (as well as for weathered dropship affiiates intending to try new products dropshipping).
eBay used to be exceptionally popular in the last decade, Internet was filled with stories of millionaires who made their fortunes on eBay. Nowadays the eBay market seems oversaturated, big brands have come to eBay now and made it hard to compete for small businesses. But you see the same in the online business – big brands took top organic and paid positions and it is not easy to find a place for dropship business in this economy.
eBay dropship does not differ from usual dropship business. Moreover, eBay serves as a perfect place to define hot products to market and then push those products to this market filled with qualified customers ready to buy. eBay dropshippers can be the same dropship merchants that dropship products to the owners of e-commerce websites. One thing that comes to my mind and may negatively impact your eBay dropship attempts is that in the eyes of its million users eBay is the source of discount and cheap products.
A simple sample to illustrate how to use eBay to define product for dropshipping and then make use of the market is a few steps listed below:
A.      eBay Pulse to define popular products in any category

B.      eBay listings browsing and analyzing to define the level of competition and demand. eBay marketplace research is a good investment to make the informed decision.  You can supplement your research depth with In-Built Market Research tool that comes with some drop ship list.
C.      Drop ship list to choose reliable wholesale eBay dopshippers
Though it seems to be easy as ABC it takes time to monitor hot products for some time incl. competition, demand, pricing before attempting to eBay dropship them.
The mistakes are inevitable even with the above three step plan – wrong products picked, tough competition, eBay fees growing fast, wrong eBay dropshippers with overpriced products, etc.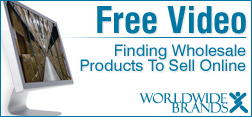 Related posts: