When it comes to video consoles and games it seems to me that there will be no end to that craze about PlayStation, Nintendo, Xbox. Just have a look at the popularity of these three terms over years.
I think it should be illustrated compared to some other popular search term, say, GPS systems (if you have a habit of keeping an eye on popular Amazon products you know that GPS is always on the list of bestsellers.
The product is popular with kids, teenagers and grownups of both genders – video consoles and games target the entire Planet population!
If we approach this fact from home based drop ship business angle we will think in terms of dropshipping both video consoles and video games
Dropship distributor I would look for partnering with should be in business for some time. Huge demand is balanced with huge offer in video games industry – so it is naive to expect to be one of the few players in the niche. The market changes fast with new video games released each month – with dozens of successful releases there are thousands of failures and it is of crucial importance to know and be able to offer those few popular video games.
Where should you start your dropship merchant partner search? Wholesale dropship directory is the first place to turn to. First check these places where you are certain to find a few (not one) verified video game dropshippers:
If you can't afford $50-100.00 investment into your home based drop ship business you can do Google research for free lists and verify found dropship merchants yourself.
A few advantages that the above listed drop ship directories provide:
user's community where you can find reviews of wholesale dropshippers,
in-built market research tool that should help you to identify more hot market products to dropship,
free 7-day trial;
100% refund in case you are unhappy with what you get for your money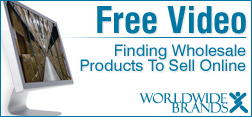 Related posts: