This website features a few dropship company lists sellers. Though one can think that the lists will solve your problem with reliable and verified merchants are right… in some ways.
With getting these lists you get access to thousands of dropship merchants and millions of brand new products. Some will come at a wholesale price. But at the same time what you get is a ton of competition – the lists are online for years. Thousands of online entrepreneurs have invested into getting the lists and they promote the same products through (as a rule) same channels (I mean eBay, of course).
So, if you are a beginner you have to keep this in mind and focus on:
-    keeping an eye on new merchants (most lists are updated weekly or even daily)

-    searching for merchants offline: you will have to verify the merchant on your own. You will probably have to update your new business partner on dropship basic as most people are unaware of this business model.
But once you are through with these simple steps you will get sort of exclusive rights.
What way is preferable? I think both deserve your time and investment. No need to buy ALL dropship company lists – choose one, probably the cheapest one.
Also try to look around for some local merchants. One more thing to keep in mind – all these steps and efforts take time.
[tags]dropship lists, dropship company lists, drop ship, wholesale dropshippers[/tags]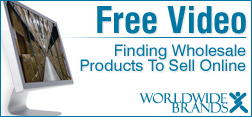 Related posts: