Dropshipping can bring a nice profit, but not a fortune. What are those items that sell for $1000's on eBay and other auctions? And where can you source those products? Let's get into the history…
In March 2002 Christie's sold a ragged t-shirt for $220 850. In the past the item was owned by Edison Arantes do Nascimento (we know him also as Pele)… A year later his fan paid $150 000 for his boots he scored his 1000th goal and the contract original (with Santos).
In October 2007 there was an auction in Dallas where 8mm Che Guevara's strand of hair was sold. Gustavo Violdo, CIA agent, cut that hair as a proof of Che Guevara's death in 1967. A bookstore owner from Houston who admires the revolutionist paid $119 000 for the hair – now you can see it in his store.
In June 2005 Christie's sold Marilyn Monroe's notebook with her ex-husbands' phone numbers – Arthur Miller, Joe DiMaggio. There are also phone numbers of Sinatra, Henry Fonda and other celebrities in that notebook. The price paid – $90 850.
In August 2001 Madonna's fan purchased her black bra (the one she used for her famous tour in 1993 – The Girlie Show World Tour) at Sotheby's auction for the amount of $23 850.
In 2001 Auction World Dot TV, the British auction, sold 11 teeth that Jack Nicholson owned in the past. The actor was mad about this and here was no information how the Auction House got those teeth, but they were nonetheless sold for $10 000.
In October 2007 Jim Morrison's door was auctioned on eBay. It was the singer's grandparent's house entrance door where Jim lived his first 6 years. Sold for $2 500.
In December 2004 a Brian Adams' fan purchased on eBay a pair of dirty socks that the singer forgot after his charitable show in Wales. Price paid – $1 100.
I think now you see what products to look for to sell profitably online…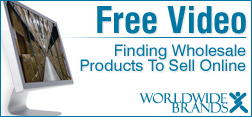 Related posts: