Where to start your dropship product research? What products are hot right now? And can you make money dropshipping products that are not so sensitive to the economy crisis? Say, dropship diaper bags.
A quick look for online trend for this very product shows that it gets steady demand for years with some light ups and downs. If it is hard to evaluate the level of demand then it makes sense to add some product that you know a lot about including demand and see how it compares to diaper bags – then you can make more sound conclusions.
Unfortunately, not all those searches are commercial. Some (probably, largest part) do not carry any commercial intent, but a simple search for information. You can play with the commercial intent tool entering miscellaneous word phrases and variations of 'dropshipper diaper bags'.
You are unlikely to focus on 'diaper bags' keyword – it is too general and too competitive to rank in top search engines – so you definitely need a deeper keyword research.
Check for baby product dropshippers with popular product sourcing services. As you see they carry products you are about to target. You are likely to get more product ideas to support your diaper bags dropshipping. Also, ones you know they prices you can get diaper bags for it is time to see what eBay sellers charge for this sort of products – probably your dropship merchant is not so good.
Make sure to browse our dropship case studies for similar businesses – it will help you to get some insider information – how diaper bag dropshippers get their traffic, where they promote, what they earn…
By this time you should have a general picture about the product, competition and demand. You cann't be certain if you make the right decision or not, but it is better to make it armed with some research findings than based on intuition or opinion of other people…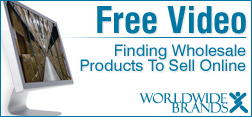 Related posts: