With the growing list of our case studies our readers are likely to learn all dropship business know-how from online business gurus who describe their dropship business processes in detail:
- hot product market research
- reliable product merchants lists dropshipping goods to your customers
- marketing tactics
- growth strategy
Another valuable thing in researching our case studies section is that it is possible to choose products to dropship you feel personal liking to. I mean you are free to choose what products to drop ship from a wide variety of products available from verified merchants.
I do know from my personal experience that it is not so easy as described in the above paragraphs, that it is a trial and error way, but those who have set the goal to make money online with drop shipping are likely to succeed if they assign the time and efforts required.
So, enjoy another case study and make the notes what drop shipping made easy is


Wedding Favor E-Commerce Site, over $24,000 in 2007 sales – Drop Ship, No Inventory – Professional Branding
Profitable, Easy to run site, 2 years old
• URL: favortakeout.com
• Established: 14 Feb 2006
• Monthly Revenue: 2,000
• PageRank: 4
• Min Bid: $7 000
Description:
All our products are provided by a drop shipper (they're a large, very professional company). It's free to setup your own drop ship account with them (we'll tell the winning bidder how to do this). When an order comes in to our site, we just log on to their website, place an order, and they'll ship it for us. They also handle returns and will refund you the price you paid them for the items when a customer sends in a return.
Work Involved:
The amount of work involved is very minimal. A few minutes a day is about all that's needed to answer email questions and place orders on the drop shippers website. It's also a good idea to periodically check the drop shippers website for new, discontinued, or back-ordered products.
Why we're selling:
Our core business is web design (out loud creative), so we're selling favortakeout.com so we can focus on our core business. We'd like to invest the money from this sale into our core business. If we don't sell the site, we'll still keep it going though, as it's a great site to run (easy and profitable).
What's Included:
Professional Custom Design & Branding
Domain Name
CS-Cart Application ($195 value) along with our customized template files, settings, etc – basically everything you need to get favortakeout.com setup and running on your hosting account
Database of products, past orders, pages, etc
Opt-in email list (currently at 162 subscribers)
Revenue Details:
Past 13 Months of Revenue (wedding favors are seasonal so we've included the past 13 months):
jan 08 – 577.80
dec 07 – 262.76
nov 07 – 125.87
oct 07 – 1225.08
sept 07 – 2088.32
aug 07 – 1307.45
july 07 – 3133.69
june 07 – 3935.5
may 07 – 1990.89
apr 07 – 1780.55
mar 07 – 2526.73
feb 07 – 3398.14
jan 07 – 2537.25
We can provide the winning bidder with a login to view proof of our sales.
Profit: Our profit per item is about 40% on average, but the buyer would be free to adjust the pricing of favors.
Our costs:
$20/month hosting (via Media Temple) – we were with A Small Orange ($12 / month) but recently moved to MT – they seem to be a bit more stable. Currently our SSL is not setup at MT since we just recently moved the site, so an error may be shown if you visit a secure page. Pretty much any shared hosting account should work just fine for this site.
Our time to maintain the site and process orders (a few minutes a day).
Traffic Details:
The majority of our traffic comes from search engines. Since we began the site, we've only spent a few hundred dollars on google/ yahoo ads, plus a couple inexpensive banner ads. With a little bit of SEO or google advertising, this site could really take off. Unfortunately this site has been a side project for us and we haven't had the time to devote to it that it deserves.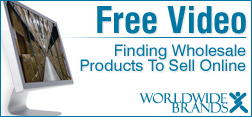 Related posts: