Dropshipping market is attractive and we witness how top players progress (Doba is on Inc.com 500 list, for example) and try to differentiate their offers for current and potential customers.
It is becoming hard to follow all those innovative features added nearly on a monthly basis. Just a couple of weeks ago we have reported about Worldwide Brands re-branding and new offers, now it is time to inform you about the changes that another strong market player has to offer – this time it is Shopster. Though not all below features are new, but they give a better idea of how the service works:
Increase your inventory through one product source
- Over 1,000,000 products are available through Shopster's virtual warehouse.
- Drop ship products from over 130 suppliers.
- New suppliers and products added every week.
- Warehouse pricing on all products.
- Many of the same suppliers used by eBay PowerSellers.
Optimize your time by managing only one professional relationship
- Shopster manages relations with 130 suppliers for them.
- Shopster processes payments and manages order fulfillment.
- Your customers can spend more time focused on selling.
Sell on eBay, other websites, or their own online storefront easily
- eBay integrated platform
- Set up multiple listings at the same time.
- Custom data exports.
- Products are directly integrated into a Shopster storefront.
Increase customer satisfaction and loyalty
- Shopster works closely with suppliers to ensure customers receive their products quickly.
- Shopster Customer Support is available to them and their customers.
- Live order tracking and order history.
Feel secure using Shopster
- Shopster offers Supplier Fraud Protection.
- Shopster is one of only 30 eBay Certified Solution Providers.
Unlike Worldwide Brands and like Doba, Shopster offers allow you to manage your relationships just through one channel – definitely great for those dropship affiliates who sell a wide variety of products as it is a real pain to keep proper relations with a number of merchants.
Also Shopster is a certified eBay solution provider – that allows integrating their system into eBay platform. It is not a secret that most dropship affiliates do their business primarily and solely on eBay.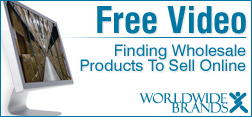 Related posts: