This case study shares some features with our previous one:
- not so popular products (is it a viable strategy for small businesses nowadays – you choose some niche products that are not in high demand and consequently no big online retailers find it interesting to fill this niche?);
- press coverage (any sort of publicity is great for online business – even some negative – as it works great for brand awareness of the business in question);
- loyal customer database that allows the e-tailers to do nice e-mail marketing campaigns.
You can find many more case studies in our dedicated category now:
- with lots of miscellaneous products promoted
- with various turnover and earnings levels
- with details of marketing techniques drop ship businesses apply to promote their products
Added to that check a list of recommended product sourcing merchants and tools that allow you to research and analyze online space for products to sell on eBay and through your own website.
The oldest and most reputable player in this field has recently introduced its repackaged product range. Now they help you:
- find products that sell online
- find wholesalers that dropship your orders with low min set
- find education kit to get basics or advanced knowledge about online business
It is not the cheapest solution compared to competition, but you do not expect to get a high quality product sourcing resource (with over 6 000 000 products) with online market research tool and lots of education videos, tutorials, etc a few dollars, don't you? Other benefits you get with the membership:
• 7,000+ Real Wholesale Suppliers for your eBiz!
• More than 6 MILLION products you can sell online!
• INSTANT market Research tells you What to Sell!
• Drop Ship, Light Bulk, Volume, Liquidation, Imports!
• Exclusive Wholesale Buys for Members Only!
• 19 eBiz and Product Sourcing Video Courses!
• 19 Online Workbooks expand on each Course!
• Interactive Self-Testing insures your Learning!
• Exclusive eCommerce Insider Reports!
• Resources for every area of your eBiz!
• Instant Access to the Whole $ale eCommerce Forum
Sounds interesting? Then get more information including pricing here
And now our survival kit case study:
Turnkey eCommerce Site with over 20k Revenue
Fully Operational Online retailer serving Niche Market
• URL: www.EzGoBag.com
• Established: Thu Apr 05 2007
• Uniques/Month: 4,000
• Page views/month: 8,000
• Monthly Revenue: 2000
• Google Pagerank: 2
Description:
www.EzGoBag.com
Offered for sale for the first time is online retailer EzGoBag.com. EzGoBag is a successful marketer of disaster and survival kits. The site has been online for just over a year, and with little operational effort beyond startup has generated over 20k in revenue. (Read more in "Why am I selling" below)
Taking survival and emergency preparedness into the present day, EzGobag targets a mainstream retail market. Formerly the territory of catalogs and online retailers that served up a militia-aesthetic and catered to doomsday paranoia, the EzGobag customer base has largely been women 25-60, and has maintained a steady institutional and business clientèle as well. Products are well received as B2B corporate gift giving items.
Products Include:
• 72 Hour Emergency Kits & Accessories
• Emergency Food and Water Supplies
• First Aid Kits
Customers Include:
• Individual and Families
• Groups (Boy Scouts, Churches, etc)
• Corporate Gift Giving (Security Companies, Insurance Companies, etc)
• Institutional (Police Department, Aid Organizations, etc)
What is for sale:
• Turnkey operations- Site, Distributors, Custiomer mailing list, including opt-ins, Newsletter
• Domains: ezgobag.com, easygobag.com
• Adwords Keword Reports for last 12 months
From the website:
Those who prepare the most, lose the least. All emergency preparedness organizations stress the need for every city to be prepared. Every citizen should be equipped with an emergency survival kit that will sustain that individual for 72 hours. This gives enough time for the city to adequately meet the needs of their community. Our kits are not like the unrealistic survival kits that do not contain adequate food or water. We follow guidelines from the top survival experts in the industry.
Revenue Details:
Products are drop shipped and no inventory is maintained. There is much room to grow profit margin simply by moving to a inventory & fulfillment model.
Revenue is nearly all credit card based at this time. The exception has been for large bulk B2B orders.
Unexploited revenue opportunities for this site include advertising of course, but also there exists a great customer interest in up to date information. We have long felt that a subscription service would be of tremendous interest.
Traffic Details:
Traffic is generated via:
• Google Adwords Campaign
• Organic traffic via viral word of mouth on forums, etc
• Result of media attention: Fox has featured EzGoBag.com and products several times resulting in large, sustained traffic bumps
• Newsletters utilizing Opt-in subscription tool to capture browsers and push for increased conversion.
• Word of mouth, referral campaign, rewarding for referrals.
• Coupon campaigns- resulted in many repeat purchases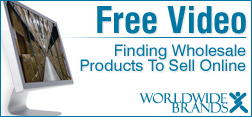 Related posts: