Electronics are no doubt popular online products. Browse top dropship lists and see that most offers come from electronics suppliers. So from my point electronics are not the best products to focus though they sell really well.
What strategy to select for those dropship affiliates who are eager to build their business around electronics? I think the answer is similar to the tips you get when you ask how to enter his or that business with hard competition – choose a narrow niche (but with good demand) or focus on trends and new products coming to the market.
If you browse our category of dropship case studies and compare earnings across a number of products dropshipped you will see that electronics is not the top earner. So, I do not want you to discourage to enter electronics dropship business, I just tell you of my own opinion – though personally I have never tried to dropship electronics due to the above reasons.
This post case study does not impress me with the profits though the site could be a nice addition to the portfolio of similar dropship businesses to those who run dropship projects in the same niche.
Established e-commerce computer mod site
Great way to get into ecommerce and build a business
• URL: www.pcextreme.com
• Established: Mon Mar 31 2003
• Monthly Revenue: 100
• Listed: Mon Apr 21 2008
• BIN: $3 000
Description:
This store has been in business since 2003 selling computer parts and mod supplies. We are resellers for a larger, well known supplier that has arranged to drop ship all of our products. You have the option to continue to drop ship or stock your own inventory.
Revenue:
We have stopped all advertising so traffic and sales are pretty low. The store has huge potential if you put the time into it. Even with minimal advertising, the sales will jump exponentially. Once you get established you can further increase your profits.
Traffic:
The site is currently getting about 400-500 visitor a day. Most of these are coming from google.
Why are we selling:
The site is a business and requires time. Unfortunately, we do not have the time that is necessary to sustain or even take the business to the next level. Instead of letting the business slide along on auto-pilot, we are looking to sell.
Revenue Details:
Online Sales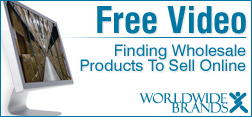 Related posts: