With all that craziness with mobile business and ringtone industry (I have recently read some stats – 10% of ALL music industry earnings comes from mobile content including ring tones), it is not a bad idea to dropship refurbished cell phones.
Why to drop ship refurbished, not new cell phones? I guess it is easier to find some niche, space to operate on that market, it is not so crowded. I might be wrong, but it is my opinion based on some observation in the past.
Added to refurbished cell phones your online business could combine a wide range of other products – cell phones accessories (batteries, cables, etc) and if you go the way running your refurbished cell phones business on a separate website of your own you night add some digital content for your website visitors (including some cool ringtones, screen savers and other nice stuff that cold attract more visitors).
Need refurbished cell phone dropshipper? As always, it is recommended to find an exclusive merchant, but it is not an easy task. So, reliable dropshippers included into the below directories are a nice start.
Quality drop ship lists:
250,00 Products to sell. FREE trial
Dropship directory. FREE preview
Summary: I have mentioned a similar website on sale dropshipping refurbished mobile phones and accessories. As far as I remember the owner was eager to sell his website for mid $1x xxx.xx price. It looks like that niche can bring some cash.
In my opinion, these products – refurbished cell phones – are likely to be in demand for a quite long period of time. Cell phones enjoy greater popularity than personal computers. Millions people have 2 or more cell phones (for business and personal), kids get cell phones when they are still in a kindergarten. Yes, the demand is fantastic. And not everyone buys new cell phones. Refurbished phones are a good option for millions of users.
One more thing in favor of this product – mobile industry fashion changes so fast – today it is LG chocolate cell phone, tomorrow it is Motorolla strawberry cell phone… And you will be able to provide those LG phones half priced and they will still look so cool…Here where you come into the game.
[tags]refurbished cell phone dropshipper, dropshipping, drop ship, wholesale, internet marketing, affiliate marketing[/tags]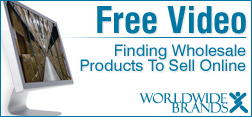 Related posts: